its things like these that i love, BCUZ they remind me that BRITNEY , B-NAY, isss the source of all inspiration in life. #scripture 
here is the demo: instagram.com/p/pzG15SG8Oq
We need to talk about Latavia. 
She is amazing. The best singer who doesn't even want need to sing. Thanks for coming back into the world, I hope there's another season of R&B Divas Atlanta with the season 3 cast, although I could do without Angie Stone….. Anyway to the real point of this post……If there were a Destiny's Child full on reunion with a brand new studio album. Beyoncé must reach out to bring Latavia and Letoya for the project because the mere thought of Kelendria, Letoya, Beyoncé, Tenitra, and Latavia as the supergroup Destiny's Child 2015 [DC5!!!] would be the ultimate in yo face reunion that no one could compete or compare. Make it happen Beyoncé!!!! 
If not maybe there's Latavia solo music coming!?!?!?!
naaaaaah. this ain't gonna happen. but we all can keep dreaming… 
DC5
2 months ago
23 notes
Level 9000 eye roll for every occasion.
I've taken my time to write this review because I wanted to completely understand everything about this group and what has been an incredible journey to take part in. When a group breaks up, or takes a break, or goes on hiatus, there's always that question of when to reunite. Most of the time in groups of four or five, not all the members make it to the reunion and they usually don't release new music, let alone a full-length album. B*Witched is the exception. These four women formed the group themselves, made their sound themselves, made their reunion happen themselves, and made this "EP" (which I'm going to refer to as the third album we never got) happen themselves.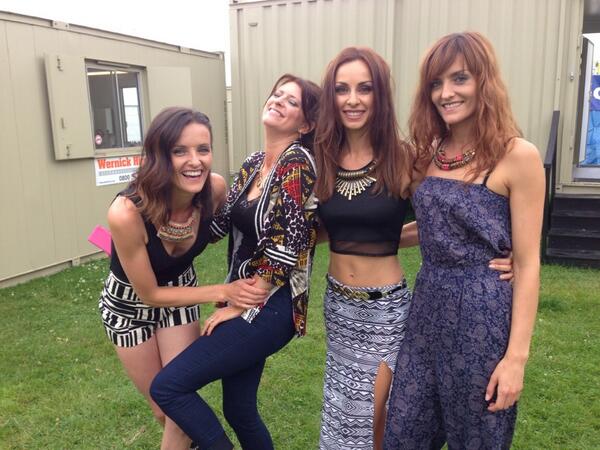 Each song is perfectly crafted. B*Witched understand pop music and how to write pop songs with simplicity and make it look effortless. I mean "Love and Money" only took them a weekend to write, record, and release. The other five songs on the mini-album are beyond my expectations. I think no one but the members of B*Witched had a clue of what a collection of 2014 B*songs would sound like. There's electro beats, guitars, Irish fiddles, all strung together through the genre of pop music because only in pop music can such blends occur.
Rather than explain each song in detail I will just say, "Waiting All This Time" and "The Stars are Ours" are my favorites of this album. They obtain the ability to make a listener feel pure joy and completely alive as they make your foot tap. It's amazing to hear Lindsay, Keavy, and Sinead sing lead and how at times their voices, along with Edele's, all blend so well together that you can't tell who's who. 
*****B*Witched live at Childline 2013, the first televised performance and "Love and Money"*****
Where the ladies of B*Witched go from here is best explained by Lindsay, "It's not a full-time job. It's lovely and it's perfect now as back in the day it was full-time, it consumed our lives. There was no room in our lives for anything but B*Witched. We were on the road the whole time, it was all about work and each other, no room to see friends, boyfriends or parents. Now, we've had our separate lives for 10 years, two of the girls have children, and different things have been going on in our lives. We've come together and we did the tour last year, we do gigs. We spent time in the studio, we do as little or as much as we want or can so it is lovely absolutely. We go off, do our separate things, and come back together." Regardless of what happens next, B*Witched in the 90s, B*Witched in 2013/2014, and B*Witched in the future continue to huff and puff and blow me away!
Can't believe I saw this tonight. Thank you to Danity Kane. The first girl group I've ever seen live in person. They are so beautiful and unbelievably sexy. I hope they continue on as a three piece for years to come. SO AMAZING! 
may 31, 2014 // silver spring, maryland
Today taking a selfie out "in the field". Overlooking the San Pedro River Valley on the east side of Catalina Mountains in Tucson. #fearlessart
A reason why American music is failing
Listen up people of America. It's time we start embracing the idea of the girl group.
In a group of 3 to 5 women who are all vocalists, who sometimes do dance routines, wear matching outfits, and harmonize, you are sure to see POP music presented in a way that is thrilling beyond your perception of what music can be.
Danity Kane is America's best girl group ever. They're all sexy as hell. They understand the culture most of us live in. They have a great dynamic, as well as strong individual personalities, looks(1 latina, 1 country girl, 1 cali girl, 1 southern african american), and traits that add to the wonderful blend that is Danity Kane. After they put out this third album they're working on who know what will happen they could break up (or go on hiatus) or keep us entertained for years to come. The UK and K-pop world have several girl groups to love and America hasn't ever embraced a girl group the way they are supposed to be loved. Danity Kane is worth it so please start acknowledging their existence. Follow them on social media, watch their youtube videos, buy their music, see their concerts, watch their TV shows, because it's amazing. They're touring and I intend on flying to Maryland to see them. I have to because they're amazing and worth it. Anyway, that's all… for now. 
Shakira is back with her newest album, Shakira., since 2010's Sale el Sol. It's not the album you were expecting, BUT it's the album that we needed. Here's my view of it. This Shakira album is different from other because there aren't as many songs that are completely different from the next. That's the sort of thing I learned to expect on Shakira albums, but interestingly this album doesn't have as much of that. Instead, there are a few stand out songs like "Empire", "Loca Por Ti", and "Dare" and then several guitar driven songs. The album artwork quite literally explains this is simply Shakira and a guitar. Songs like "23", "Broken Record", "The One Thing", and "Spotlight" are the most obviously personal songs I've ever heard from Shakira. Its for this reason that this is the album we needed. Shakira can't base her legacy, longevity, and career around her belly-dancing moves because their may come a day where she won't be able to physically move the way she best known for. As a singer, what Shakira's legacy, longevity, and career should be based on is her voice, which is showcased more on this album than any other before it. I'm really proud a Shakira for sticking to her guns and making an album. Although it wasn't an instant embrace on my part for this new music, if Shakira's voice is on the track I will learn to appreciate it as it takes me to new songs, music genres, and places in Shakira's endless musical imagination.
Happy Shakira day! #Shakira #Shakira. @Shakira #10thAlbum #boughtthealbum #14yearsafan #myfavoritepopstarofthemall